I am Frank Klemens. I design quilt patterns for all levels of Quilters. But most of all, I am a Quilter. I love all aspects of Quilting but enjoy machine piecing and machine Quilting. I have taught Quilting classes for the past 6 years and enjoy being around fellow Quilters.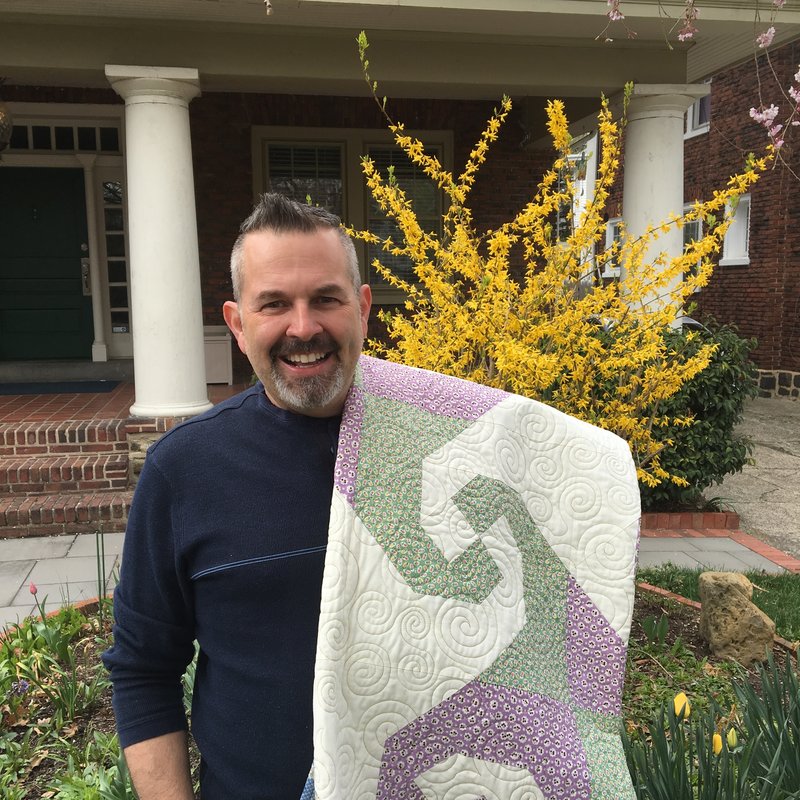 This is Michael's Monkey Wrench Quilt


You might be wondering about the name of my web site – Frank's Three Wise Guys. It has nothing to do with quilting. I needed a company name and when I looked out from the dinner table one evening, Three Wise Guys were staring back at me. Those Three Wise Guys are my three sons. After I announced the company name to my sons, the youngest stated that I had it all wrong; it should be Frank's Three Wise Men. I said "not quite yet" since he was only 9 at the time of his wise remark.

Frank's 30's Club is exclusively available on this site. This club is designed for quilters that horde 1930's reproduction fabrics or just love 1930's fabrics and want fresh and unique patterns to use up their stash. To be a member, you do not have to be in your 30's but all members are automatically in their 30's once they join.



Additional Information



Frank was born and raised in Cleveland, Ohio. He was always surrounded by sewing machines since his grandmother and mother were avid dressmakers. He graduated from Lake Catholic High School in Mentor Ohio and then attended John Carroll University in University Heights, Ohio. He graduated from JCU with a BS in Chemistry. He then obtained his Masters and PhD in Chemistry from Purdue University in West Lafayette, Indiana. Frank joined the DuPont Company in Wilmington, Delaware and has spent a career pursuing exciting opportunities in research and business.

He became interested in quilting in 1999 when a dear friend asked him if he wanted to learn quilting. She noticed that he was extremely hurt from his sudden loss of his sister and she knew he grew up around sewing. She said that quilting would help him get through these difficult times since quilting soothes the soul. She was right. Since then, he has created numerous quilts using any techniques that utilizes a fun process or techniques. His favorite techniques include machine piecing, paper piecing, and machine quilting. He began designing patterns in 2004 and enjoys designing quilts using EQ6.

Frank's Three Wise Guys (named after his three sons) came about from support of local Quilters in Delaware. Since then he has designed Quick Gift Ideas, Quilt Patterns and Frank's 30's Club.

In his spare time, he teaches quilting classes, speaks at guilds and enjoys being around Quilters. He belongs to the Ladybug Quilt Guild in Newark, Delaware.

Here I am with Ricky Tims at his quilt retreat. The quilt I designed is behind us.

Keep Stitching!!!

PS - If you are interested in a speaker at your shop or guild, I would be thrilled to talk with you about topics that would best meet the needs of your organization. If you have any questions, please feel free to contact me (Quilters Contact Us) and I will be happy to help.